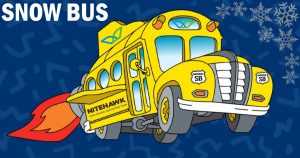 Nitehawk is excited to offer Bus Shuttle Service from Ernie's Sports Experts & the Eastllink Centre to Nitehawk Year-Round Adventure Park on special "Schools Out Days" throughout the season.
Those that pre-register for shuttle bus service will also receive One (1) $15.00 Day Lift Ticket upon arrival at Nitehawk for use that day, by showing their receipt at the ticket office.
"Snow Bus" Shuttle Service DATES:
– Friday, March 2nd (GPPSD, GPPCSD, PWSD – Professional Learning Day)
  – Thursday, March 8th (GPPSD, GPCSD, PWSD – Teachers Convention)
– Friday, March 9th (GPPSD, GPCSD, PWSD – Teachers Convention)
– Friday, March 23rd (GPPSD, GPCSD – Day-off in Lieu, PWSD – School Day)
Shuttle Bus tickets must be purchased in advance online at www.gonitehawk.com. 
Please print your receipt and present it to the Bus Driver/Nitehawk Representative prior to loading the Bus at either Ernie's Sports Experts or the Eastlink Centre. 
Tickets are $10.00/guest for Round Trip.
Please Note: minimum of 20 Round-Trip guests are required to run the shuttle bus. In the event that minimum is not met, all previously registered guests will be refunded their Round-Trip Bus Fee.
The Shuttle Bus will Pick Up in Town at Ernie's Sports Experts in their parking lot at 10:00AM & 1:00PM and across from the Eastlink Centre (Main Front-South-Entrance) in the St. Joesph's High School Parking Lot at 10:20AM & 1:20PM. The Bus will be arriving at Nitehawk at approximately 10:35AM & 1:35PM.
Return Bus will pick up at Nitehawk Ski Hill (in front of Chalet) at 5:15PM, leaving at 5:30PM to drop-off guests at the Eastlink Centre, followed by Ernie's Sports Experts.
Equipment:  Please be aware that skis & snowboards are not allowed on the bus, Nitehawk will be providing a truck to haul all equipment to and from the hill. We also have lockers for rent on-site should you want to leave your gear at Nitehawk. Please inquire at the Ticket Office on arrival.
Please Note: Nitehawk Year-Round Adventure Park, Peace Wapiti School Division, Ernie's Sports Experts and The Eastlink Centre will NOT be responsible for any guests missing the bus. Refunds will NOT be issued for guests that miss the bus. It is the responsibility of the guest to be on-time for pickup at both the departure from town and the ski hill.