Nitehawk RV Park – Campground Rules
12 Easy Rules to abide by:                                                       
All sites need to be pre-booked and pre-paid, please call by checking in or complete your online check- in 
Payments must be made in advance. Failure will result in a $35 fee being added onto your account. A valid credit card, and a $500 deposit is required on day of check in.
RATE INCREASE EFFECTIVE MAY 1- 2023—-Monthly Rate from May 1 to November 1- $725.00, November 1 to May 1- $690.00 (If Winterized) and $725.00 for full services. For details on other rates contact the office.
Clean up after yourself and leave the site ready for the next guest. Do not leave garbage in the fire pit when leaving the site, please take it to the trash bin.
Bears frequent this area – please use Central Bear Proof Garbage Bins. Do not burn garbage in fire pits or leave food out at night, including pet food.
To comply with health regulations all Sewer connections require a ridged elbow adapter and must be airtight.
Be Courteous and Respectful of others. Turn Music Off and Talk Quietly. Quiet time between 11:00 pm & 8:00 am

Maximum of 2 vehicles in each site, parked on Gravel pads – use parking lot for visitors. Commercial vehicles over 1 ton and towed equipment must use parking lot.
ABSOLUTELY NO FIREWORKS allowed in the RV Park, due to fire hazard.
ALL Pets must be quiet, always kept on a leash and cleaned up after. They are not to be left outside unattended for any length of time.
No ATV's allowed in Campground OR on Ski Area. ATV's & Dirt Bikes must be loaded on your truck or trailer and hauled out of the campground and off Nitehawk Property or driven out at the posted speed limit.  (ask us about nearby Quad Trails, we'd be happy to let you know where they are.)
Speed limit in RV Park is 10 km/h.
No tree cutting or brush removal permitted.
Contact us today for a reservation:
Phone: 1 780 532 6637
Toll Free: 1 888 SKIorRV
Fax: 1 780 532 8370
Email: reservations@gonitehawk.com
Reserve Online Now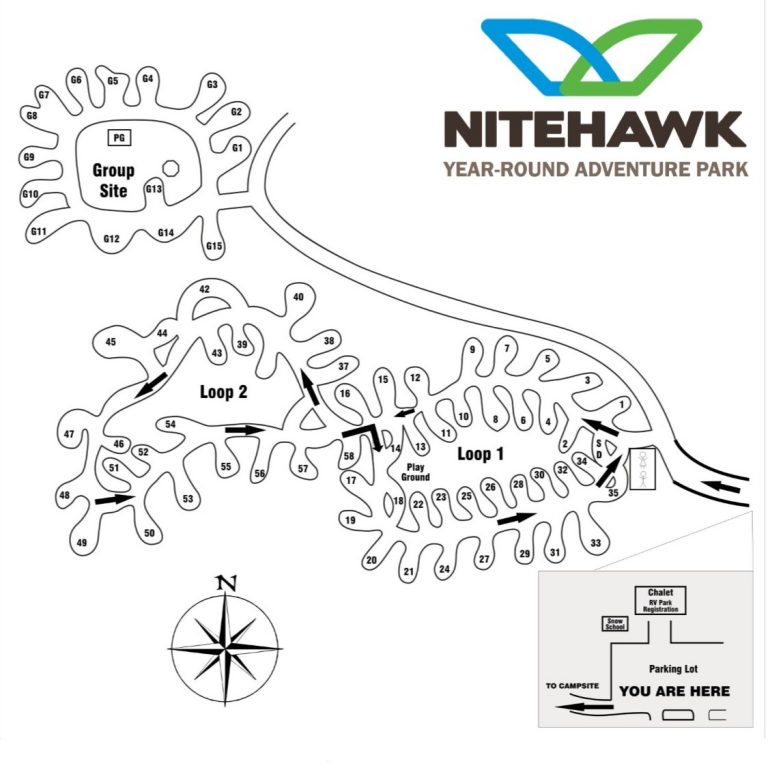 Sponsored by the Swan City Rotary, the Nitehawk Wilderness Campground & RV Park opened in 2006.