Tuffest 10 – FALL EDITION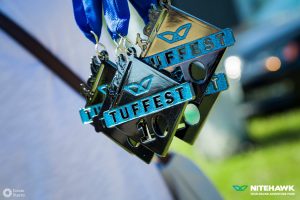 Join us for the "Tuffest 10″ Fall Edition Foot Race on Sunday, October 15th on the terrain of the Wapiti River Valley.
Start times:
Double Down Challenge 20 km – 9:00 a.m.
Tuffest 10 km – 10:00 a.m.
5 km – 10:30 a.m.
Registration: 8:00 a.m. – 9:30 a.m.
Open to all ages and levels! Run or hike… have fun with friends and experience new trails while supporting Nitehawk Year-Round Adventure Park's continued facility improvements!
Registration:
 
Double Down Challenge 20km
Adults (18+)……………………..$50.00
Youth (17 & under)…..……….$40.00
Tuffest 10km
Adults (18+)……………………..$50.00
Youth (17 & under)…….……..$40.00
5km
Adults (18+)……………………..$40.00
Youth (17 & under)…………..$30.00
Optional Add-ons:
Brunch (adult)……………………………………..$15.00
Brunch (child age 5-10)………………………..$9.00
Brunch (child age 4 & under)………………..$15.00
*Brunch add-on available until Monday, October 9th.
Long sleeve tech race shirt……………………$20.00
*T-shirt order cut off will be Monday, October 2nd.
Register online at: https://gonitehawk.com/fitness-trail-training/tuffest10-fall-edition/ or avoid the online fees by calling our office at 780-532-6637.
Interested in volunteering? Contact our race director, Kim Lebrun at racecoordinator@gonitehawk.com to sign up today!
Nitehawk trails offer great training grounds for other outdoor adventure races like the Sinister 7, Emperors Challenge, Off the Grid Adventure Race and the Canadian Death Race.