Nitehawk – Annual General Meeting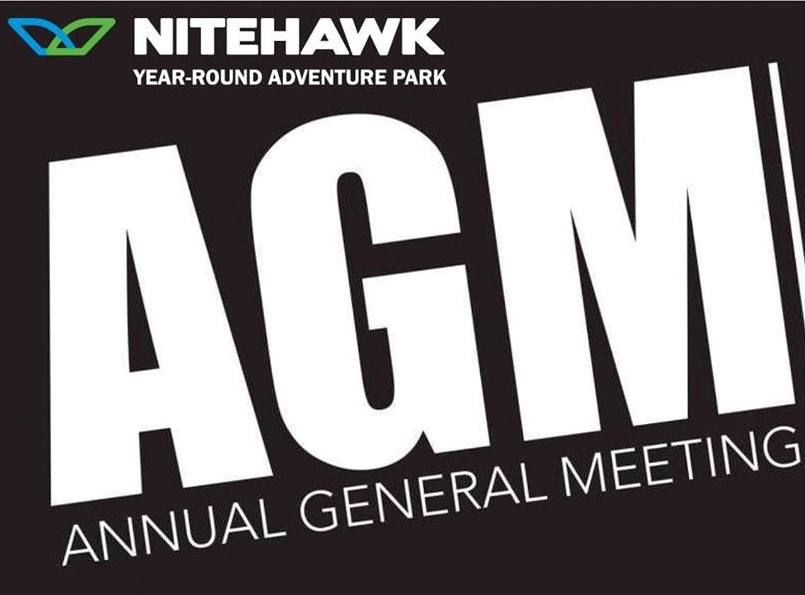 Want to get involved in a community minded organization that has been part of Grande Prairie & Region for almost 60years?
Join the Grande Prairie Ski Club's (o/a:Nitehawk Year-Round Adventure Park) Board of Directors for their Annual General Meeting, happening on Tuesday June 29th, 2021 at 5:15PM.
MEMBERSHIP INFORMATION:
If you were not a Grande Prairie Ski Club Member (ie. Season Pass Holder) this past winter season, you can purchase a membership to attend the AGM for the purchase price of $50 by clicking this link: https://gonitehawk.com/about-us/ski-club-board-directors/
This membership will accommodate those who were unable to obtain a season pass last year due to the Covid-19 Pandemic, but would like to attend the AGM. Once you purchase your membership you will receive a link to register for the Virtual Meeting via Zoom.
This Membership is not transferable to an annual season pass and all funds raised will be put towards the "Nitehawk Landslide Recovery Fund" in partnership with the Community Foundation of NWAB.
Interested in being a part of the excitement, please fill out the following two(2) forms and email to Board President Whitney Wild at wtwild@gmail.com
Board Member Application: https://gonitehawk.com/wp-content/uploads/2021/02/Board-of-Directors-Application-Form-2021-Web-Fillable.pdf
&
Skills Matrix: https://gonitehawk.com/wp-content/uploads/2021/02/Board-Member-Strengths-and-Skills-Matrix-Questionairre-2020-fillable.pdf