Join us for the 1st Annual "Tuffest 10 – Fall Edition″ Foot Race, Sunday OCTOBER 15, 2017.


Enter into the TUFFEST10 – Fall Edition Foot Race on the Terrain of the Wapiti River Valley.
With 5km, 10km & 20km race distances, this event is open to all ages & fitness ability levels. Run or hike… have fun with friends and experience new trails while supporting Nitehawk Year-Round Adventure Park's continued trail improvements.
Register online or by calling our office at 780-532-6637.
Nitehawk trails offer great training for other outdoor adventure races like the Sinister 7, Emperors Challenge, Off the Grid Adventure Race and the Canadian Death Race.
Event Start Times:
Registration 8:00 a.m.- 9:30 a.m.
20 km – 9:00 a.m.
10 km – 10:00 a.m.
5 km – 10:30 a.m.
Registration:
20km "Double Down Challenge"
Adults (18+)……………………..$50.00
Youth (17 & under)…..………….$40.00
10km
Adults (18+)……………………..$50.00
Youth (17 & under)…….………..$40.00
5km
Adults (18+)……………………..$40.00
Youth (17 & under)….…………..$30.00
*registration includes a cool Tuffest 10 – Finisher Medal & Swag Bag.
Optional Add-ons:
Racer Longsleeve Tech T-shirt……………………..$20.00/ea
*T-shirt Add-on only offered until Monday Oct.2
Sunday Brunch Buffet (Adult)………………………$15.00/ea
*Brunch Add-on offered until Monday Oct.9
Registration online only.  For questions call our office at 780-532-6637.
Interested in volunteering? Contact our race director, Kim Lebrun at racecoordinator@gonitehawk.com to sign up today!
BASIC TRAIL TRAINING GROUP:
The #NitehawkTrailTraining Crew meets every Thursday at 6:00pm and Sunday at 9:00am for training runs on the trails on and surrounding the Ski Hill.  Please meet in the Nitehawk Parking Lot prior to start times. Join our "Nitehawk Fitness & Trail Training" Group on Facebook to stay informed.
TUFFEST 10 "Fall Edition" RACE ROUTE:
NEW 10K ROUTE FOR 2017 – Follow Red Route on Map Below for this years 10k Course.
NOTE: All 20k racers will be Doubling Down on the 10k Route shown below and all our 5k participants will be finishing at our 5k Main Water Station (located at the Tube Zone Parking Lot).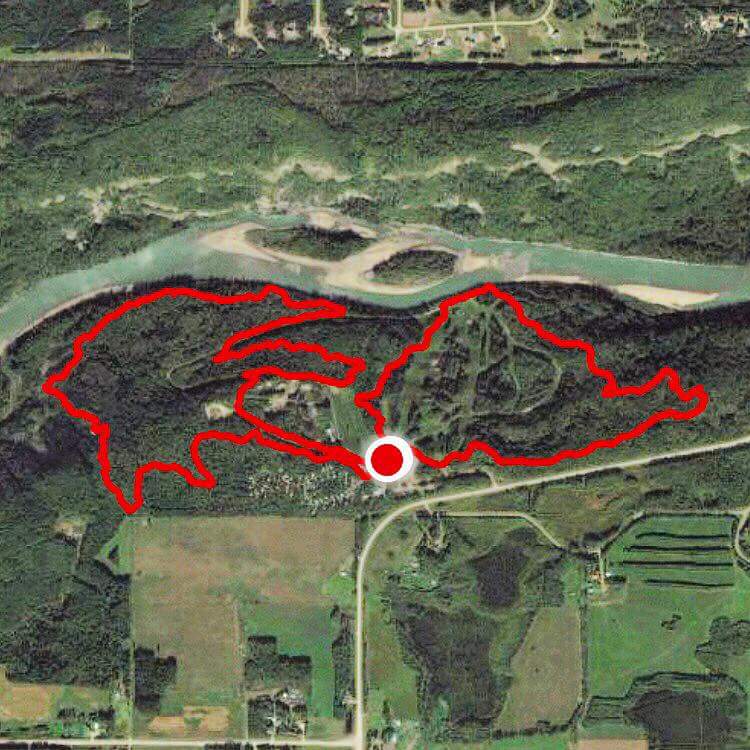 Nitehawks – "Tuffest 10″ Foot Race
The course is a combination single track trails, roads, & downhill ski trails.
This is a course that will take you to the far west end of Nitehawks Property, so please dress appropriately, carry BEAR & Bug spray if you choose, and carry enough food and water.
We hope you all enjoy the challenge, no matter your fitness level, and we can't wait to hear your comments.
Johnathan Clarkson
Asst. General Manager
Nitehawk Year-Round Adventure Park
We would recommend (racers choice) that each racer carry the following items:
– BEAR SPRAY.
– At least 1L CAPACITY for WATER on you.
(we will also have full serve & self serve water stations positioned at points along the course)
We would recommend that each racer bring the following items:
– mosquito spray
– rain clothing (if forecast changes)
2017 TUFFEST 10 "FALL EDITION"
RACE – REGISTRATION NOW OPEN
ONLY 0 Entries Remaining!
Sorry, registration is now full!