AQUATERA Snow Tube ZONE
If you've never experienced snow or just can't get enough, our Snow Tube Park is for you!  Feel the thrill of sliding downhill in a snow tube and let our new 600ft wonder carpet lift bring you back to the top to do it all over again!
NEW this year, GLOW TUBING, during eveing operations featuring blacklights, lasers and music. 
Face Coverings/Masks will be required at ALL Times while tubing, as our staff cannot guarantee physical distancing.
Please note that due to capacity constraints because of COVID-19 for the 2020-21 Winter Season, lift tickets will NOT be able to be purchased at the Ticket Window.
ALL Aquatera Tube Zone Passes must be booked ONLINE before coming out to Nitehawk. We thank you for your cooperation and understanding during this far from ordinary time. 
ONLINE TUBE ZONE WAIVER FORM (click here)
---
Tube Park Hours
Fridays: (GLOW Tubing with Blacklights & Lasers)

Tube Sessions:  5:00-7:00PM & 7:30-9:30PM
Saturdays:
Tube Sessions:  12:30-2:30PM & 3:00-5:00PM & 5:30-7:30PM 
Sundays:
Tube Sessions:  12:30-2:30PM & 3:00-5:00PM
---
*Watch for BONUS HOURS throughout the season!
*Tube Zone Hours are subject to change and closures should the forecasted temperature fall below -25 Degrees Celsius including windchill. We apologize for any inconvenience.
---
Tube Park Rates:
Adult  (includes 2hrs of tubing & tube rental): $18.00/ea
Youth/Senior (includes 2hrs of tubing & tube rental): $15.00/ea
Junior (includes 2hrs of tubing & tube rental): $13.00/ea
Family (2 Adults & up to 4 Children 17&under – includes 2hrs of tubing, tube rental  & helmets):  $74.00
---
CANCELLATION POICY
All Daily Aquatera Tube Zone Passes are non-refundable.
In the event of a Cold Weather Closure (temperature cut-off is feels like -30 degrees), ski times may be rescheduled at no charge or a rain cheque will be issued. Rain cheques are only valid for the current season.
Please note that should you choose to cancel your booking and request a refund there will be a 10% administrative fee.
Email requests to info@gonitehawk.com or bring a letter to Nitehawk Guest Services.
---
Groups / Birthday Party Rates:
Please visit our BIRTHDAY PARTY PAGE (Click here)
Talk to our groups coordinator about food options available from our full service cafeteria, whether its  burgers/hotdogs & fries, pizza, sandwich platters or a customized menu, we've got your party needs covered.  Want to bring your own Cake, no problem.
---
Private Tube Zone Rentals
*minimum of 2 hours required.
*includes use of Lower Chalet.
Private Tube Zone Rates (Saturday & Sunday Evenings)
– $15/person (payment for min. 40 participants required)
* includes helmet rental for each participant.
Private Tube Zone Rates (Wednesday & Thursday)
– $250.00 for first 2 hrs + $50 for additional hours
– $12.00/person (lift pass with complimentary helmet)
To Book your tubing party or company/club function, please call the hill at 780-532-6637 or email events@gonitehawk.com for details.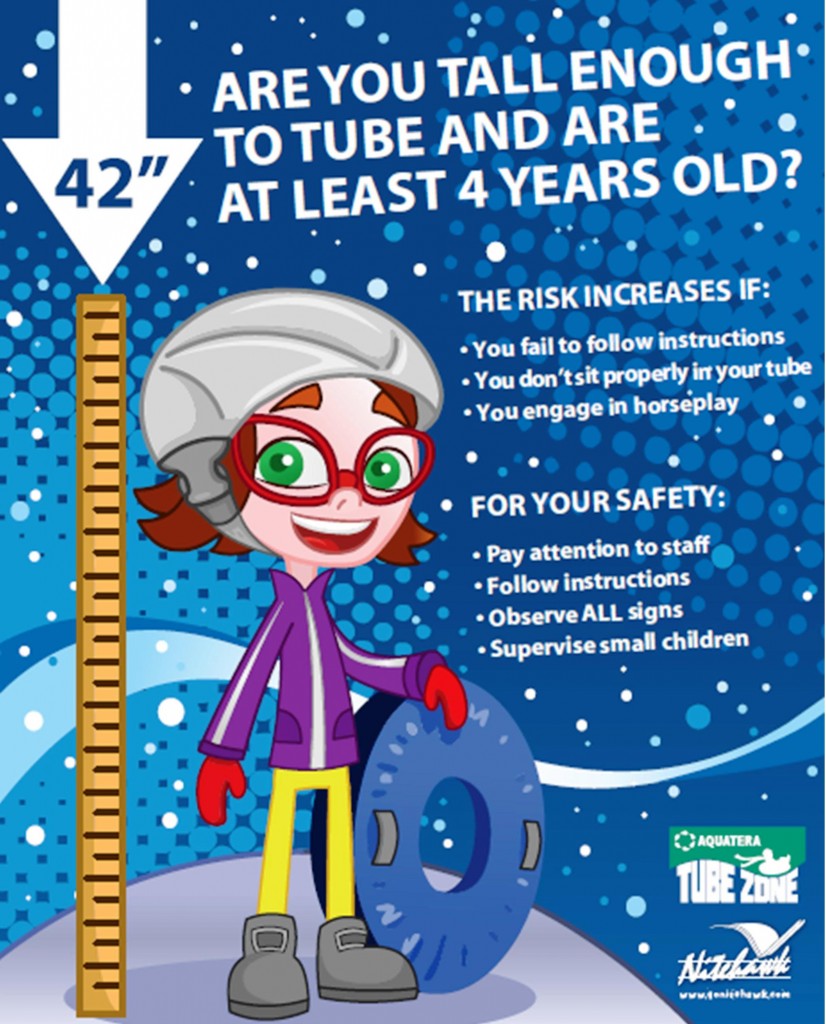 TUBE ZONE RULES:
*HELMETS ARE MANDATORY, this may be a personal CSA approved helmet or a Nitehawk Recreation Area rental helmet, that can be rented for $3.00/each.
Warning: There is an element of risk in snow tubing.
The risk increases if: 
· You fail to obey instructions
· You do not sit properly in your Tube
· You engage in horseplay
Area Rules 
· Children must be at least 4 years of age.
· Children must be at least 42 inches tall
· Helmets are mandatory and all tubers must wear a CSA approved winter sport helmet.
For Your Safety 
· Pay attention to Tube Zone staff.
· Follow instructions.
· Observe ALL signs.
· Supervise small children.
When Riding the Lift 
· Observe all signs.
· Supervise small children.
· No fooling around on lift and stay standing while riding the lift.
· Hold onto the leash on your tube and don't let it go.
· Promptly exit belt at the top of Lift.
When Sitting in the Tube 
· Secure your helmet.
· Sit up, hold handles.
· Keep feet up.
· One user per Tube (sitting on your bottom).
At the Bottom 
· Follow instructions of Tube Zone Staff.
· Look both ways when exiting the lanes.
· DO NOT ATTEMPT TO RETRIEVE OBJECTS FROM LANES.
Caution 
· Walking paths can be slippery.
· Winter footwear, that is secure with good winter tread is recommended.
· Use caution when walking.
---
Nitehawk is EXCITED TO ANNOUNCE the addition of an entry level tube sliding slope, the "AQUATERA TODDLER TUBE LANE", for children under age 5 and under 42″ Tall.
We also have Small Tubes specific to this area, as Full Size Tubes are not permitted in this area for safety purposes.