__________________________________________________
BEAR PAW Par 3 Golf Course:
On a shortened 9-hole course, kids, youth and adults alike can get out and get comfortable with the pitching wedge and putter on this great practice course. Don't have a pitching wedge and putter? Come and see our staff at the Club House and will rent you a set to play with.
The Bear Paw Par 3 Golf Course is the perfect place for anyone looking to learn the game, practice their skills, tighten up their short game, play a quick round, or play the game while keeping the costs down.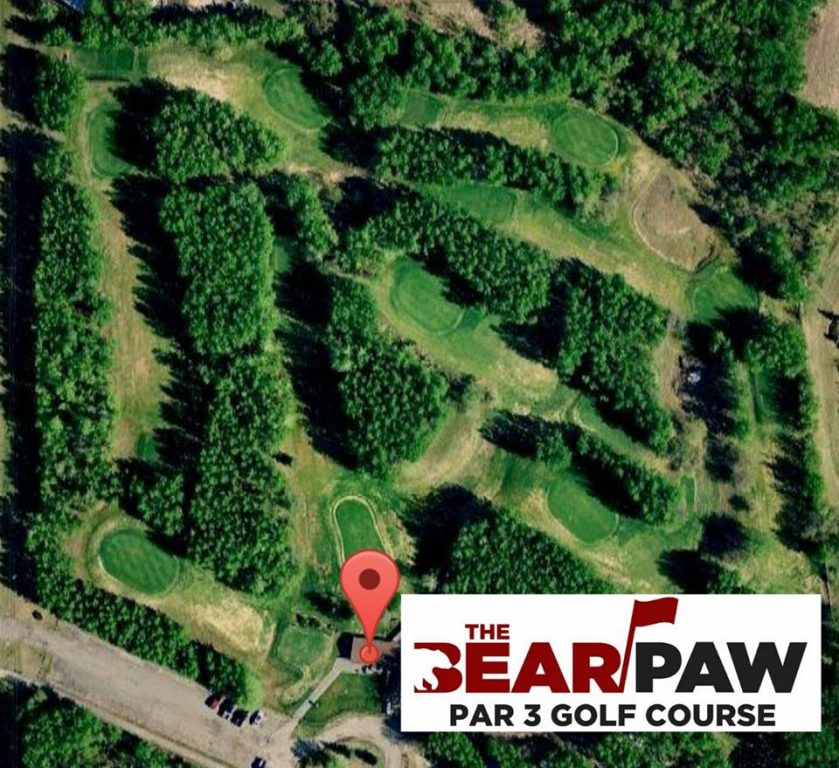 No clubs? No Problem:
Youth and Adults can rent clubs so they can play this great game together. Ask staff for details at the Club House. For our Rental Rates click here.
Family Play time:
Have a family? The Bear Paw Golf Course is a great way to play a game together without the stress of holding up other players. Kids can get to understand how to hold the club, get a feel for striking the ball and warm up to the game. This course allows you to play and practice golf at a very reasonable rate, while you let the kids test the water before plunging them into golf as a full time sport. For a list of our current lesson programs click here.
Not just for the kids:
New to the game or just looking for some practice time? The Bear Paw Par 3 Golf Course is not only a great way to learn how to play the game but also to hone your short game skills. This game can be played solo or with a group, making it a great for everyone; including Corporate Functions. 
BEAR PAW Driving Range:
Our Driving Range features 16 Tee Boxes, with yardage markers and targets to provide you with every opportunity to perfect your swing. 
HOURS OF OPERATION
GOLF COURSE:
10:00 am – 10:00 pm – Monday to Sunday – 7 days a week! (Hours Change throughout the season based on daylight)
*please note that weather closures do occur occasionally due to rain and/or thunderstorms. Please visit our Facebook page for up to date hours of operation.
Club House/Campground Office On-call:

9:00AM to 11:00PM (daily on-call)
CONTACT US:
Email:
For Bear Paw General Inquiries email:

BearPawGolfandRV@gonitehawk.com

For Bear Paw Event Bookings email:
Events@gonitehawk.com

Snail Mail:
PO Box 1006 STN Main
Grande Prairie AB, T8V 4B5
Phone:

780-402-8777
Fax:
780-532-8370
Physical Address:
6325 – 100 Street
Grande Prairie, AB
GPS Coordinates:
55.1389942, -118.8030964, 847m