YOGA Flexibility & Fundamentals Workshops
Join certified yoga teachers Nikole Fraser and Seanna Quinn for two special YOGA Workshops on Saturday, December 16th, 2017 at Nitehawk.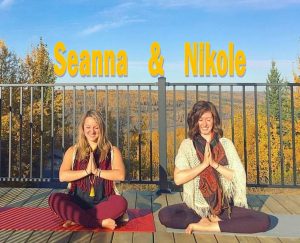 The first workshop will be from 11:00AM-12:00PM, with a focus on "YOGA Fundamentals". Seanna will break down some of the basics with a fresh perspective. 
There will be a 1 hour lunch break from 12:00-1:00PM, and we welcome you to enjoy the chalet and the food services of the ski hill. 
Our 2nd workshop will be lead by Nikole from 1:00-2:00PM, with a focus on "YOGA Flexibility". This fun and informative session will expand your knowledge about individual flexibility, and will help deepen your practice. 
Registration Fees:
Either YOGA Flexibility or Fundamentals – $20/person
BOTH YOGA Flexibility & Fundamentals – $35/person

**Availability is limited, so be sure to pre-register to save your spot today!
Both of these workshops will be held in the Nitehawk Gazebo with the warmth of our cozy wood stove, and will be followed with hot tea for everyone.

*These workshops are perfect for all skill levels, and for participants ages 10 & up.
We have yoga mats available if you don't have your own and please feel free to bring a water bottle and a blanket for added comfort.
Namaste…