CSIA Level 2 Ski Instructor Course
The Level 2 ski instructor certification is for advanced skiers who have passed the Level 1 certification. The course enables ski instructors to improve their situational teaching skills, to acquire a better understanding of CSIA technique and methodology, and the role of ski teaching within the ski industry. It combines practical ski teaching methods, technical understanding and development, and improvement of guest service skills.
Candidates will receive coaching on their skiing, teaching and people skills with the goal of reaching the Level 2 standard. They will also receive suggestions and strategies for long-term development. The successful candidate is certified to teach skiers up to intermediate parallel skill level.
Since the 2013/14 season, the Level 2 certification is now offered in a modular, credit-based structure. The certification consists of 3 components, each requiring its own individual registration: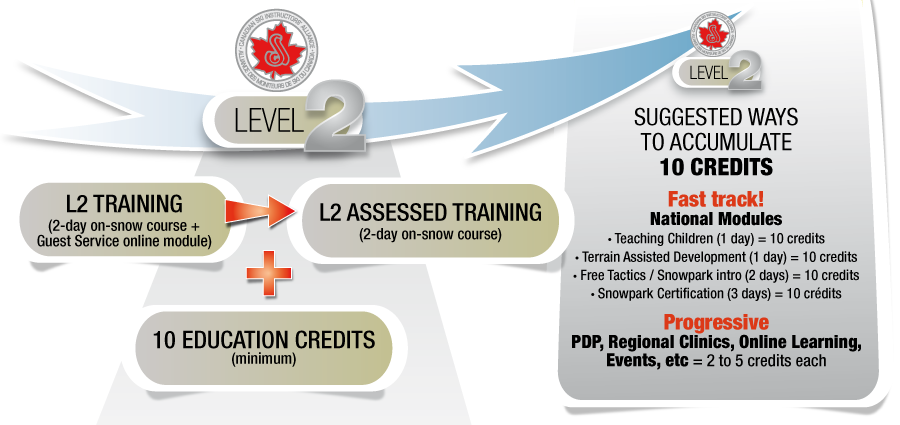 Level 2 Training course
Ski and teach training

On snow and indoor sessions

Online learning content (Guest Service online module – mandatory)
Duration: 2 days
Prerequisites: CSIA Level 1 OR CSCF/ACA Entry Level Mentor Program completed OR CSCF/ACA Development Level Trained status
Course fees: $264.80 + tax
Course Guide: click here
Registration: Click here or login to your profile.
Level 2 Assessed Training course
Ski and teach training with assessment
Duration: 2 days
Prerequisites: Level 2 Training course completed (registration can be done in advance)
Course fees: $264.80 + tax
Course Guide: click here
Registration: Click here or login to your profile.
Education Credits
The 10 Education credits can be accumulated at any point in time. Before, in-between or after the Training and Assessed Training courses…it's up to you!
While most CSIA programs are eligible for Education credits (see full list here), the easiest, suggested way to accumulate 10 Credits is to attend a national module:
PLEASE NOTE THAT AN INDIVIDUAL REGISTRATION IS REQUIRED FOR EACH OF THE COMPONENTS
BUILD YOUR OWN SCHEDULE – progressive or fast track…it's your choice!
Progressive
The process of certification is not limited in time. Pick and choose your modules however best suits your progression and schedule. Components can be collected at any point in time, but the L2 membership status will not be updated until all Modules are completed and Education credits are accumulated.
Fast track!
Complete your Level 2 in only 5 days! In most cases, the 3 required courses (L2 Training – L2 Assessed Training – 1 day module) are scheduled together over 5 consecutive days, allowing to fulfill the requirements as fast as possible. Please note that you still will have to register to each component individually.
RETEST – Complete your certification!
Retests will be held over the entire 2 days of the Level 2 Assessed Training program, both for members currently holding a partial L2 certification under the old structure and those in need of a full retest.
Level 2 partial course – Ski or Teach
Under the new structure, the 3-day Level 2 Skiing or Teaching partial certification courses are no longer offered since the 2013/14 season. Members holding a partial certification after having attended only one of the two portions are allowed to complete their certification by attending the Level 2 Assessed Training course directly. Both the L2 Training course and the Education Credits components have been credited to you.
Level 2 videos
Prepare for the course by viewing our compilation of videos pertaining to the Level 2 certification. Click here to access the YouTube playlist.