S3 "SUPER JAM" 2017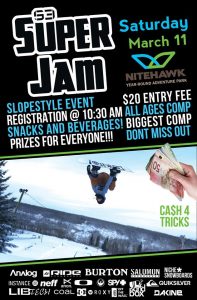 Join the event on Facebook at:
https://www.facebook.com/events/1854944051450395/?active_tab=discussion
The BIGGEST Snowboard comp of the year is almost here!
This will mark the 7th year for the S3 Super Jam.
Here are the deets!
– Registration at 10:30AM in the "LOWER CHALET" located near the Aquatera Tube Zone next to the Terrain Park
– Slopestyle Comp
-All Ages
-Prizes for EVERYONE (no matter how you place)
-CASH up for grabs (could get gnarly wink wink!)
-Good Tunes
-Good homies
-High Fives!
-$20 entry fee (does not include lift ticket)
Mark your calendar – I think this will be the best one yet!