Nitehawk Trail Training Group

Join the Nitehawk Fitness & Trail Training Group for Hiking & Running on the trails and 
hills surrounding Nitehawk Year-Round Adventure Park. These sessions are open to all abilities and fitness levels.
Our group training sessions are held three days a week (meeting in the Nitehawk Parking Lot prior to start times):
TUESDAYS at 6:00PM
THURSDAYS at 6:00PM 
SUNDAYS at 9:00AM
Nitehawk has the perfect terrain for training for our "TUFFEST 10" – Foot Race and other trail/adventure races, including the Canadian Death Race, Emperors Challenge, Grizzly Marathon, Sinister Seven and Off-The-Grid Adventure Race!
Also on Sunday mornings following our run join everyone in Nitehawk's Snowmakers Dining Room for our SUNDAY BRUNCH BUFFET 20.95/person, $11.95/child 5-10yrs old, and $5.95/toddler under 4yrs old.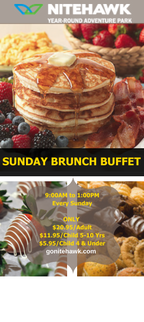 For more information contact:
Kim Lebrun (Race Director): racecoordinator@gonitehawk.com
Drew Rogers (Run Club Enthusiast): drew@gonitehawk.com
Purchase your Nitehawk TRAIL-USE Pass
(no lift access)
SUMMER $50 (May 1 to October 31),
YEAR-ROUND $90 (May 1 to April 30)
DROP-IN VISITOR PASS $5
Nitehawk Trail Training Pass
This pass gives you access to the Nitehawk Foot Trail network.
Please keep in mind that this is for running, walking and hiking only in our trail network.
** Drop- in/ visitors pass: $5 **
** Drop box located on South door of Rental Shop. **
Due to Bike Park operations, there will be no trail access the following times:
Wednesdays 5:30-9:30pm
Saturdays 12:00-5:00pm
Sundays 12:00-5:00PM
*Please note that our Bike Park Trail Crew spend about 1-1/2hrs prior to opening each day riding the trails to inspect them for hazards.
FOR YOUR SAFETY, PLEASE AVOID USE OF THE TRAILS DURING THESE POSTED TIMES.
Benefits of Membership
Access to Trail Training Groups
Help us build/ maintain foot trails
– Nitehawk Day Lift Passes
– Nitehawk Snowmaker's Lounge Food purchases
You are a Friend of Nitehawk :)
Pass Pick Up
After purchase please submit a photo to racedirector@gonitehawk.com. Once photo has been received, pass will be printed and available for pick-up. Pass pick-up will be available for pick-up at the rental office during regular business hours. You may also coordinate a run group pick-up with Kim at racedirector@gonitehawk.com or Drew at drew@gonitehawk.com.