Family Day with Big Country 93.1FM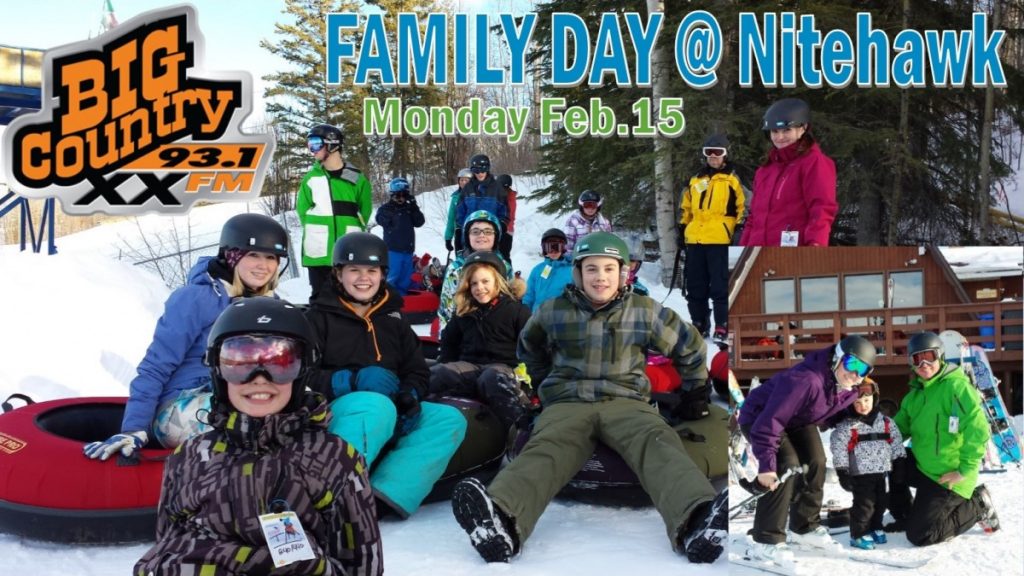 Join the "BIG COUNTRY CREW" for Family Day on the hill, and fun and prizes.
Special Family Day Pricing:
* $12/person/2hr Tube Zone Passes
* $15 Ski & Snowboard Rentals
* $99 "Family Day" Package (includes lift tickets & rentals for 2 Adults and up to 4 children).
* Get "Countrified" (wear your cowboy hat or western wear) and receive 25% Off Regular Priced Lift Passes.
Please Note: All other lift passes not mentioned above will be at regular price.
We'll also have Horse & Sleigh Rides and for the first time ever at Nitehawk DOG SLED Rides, both from 11:00-3:00. Come purchase a pass for these two activities:
Dog Sledding: $10.00/person
Horse & Sleigh Rides: $5.00/person
Join us for TUBING "Shuffle Board" in the #Aquatera Tube Zone for a chance to win some great prizes from the Big Country Crew. (shuffle board happening between 2&4pm).
We'll also have FREE Apple Cider on the deck from 12:00-1:00PM.
It's a "BIG COUNTRY Family Day" at Nitehawk Recreation Area…come out for some FRESH AIR FUN the whole family can enjoy! gonitehawk.com