S3 Superjam Downhill Derby 2018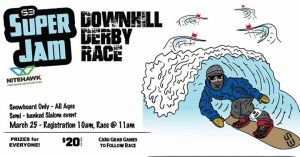 Nitehawk is excited to be the venue for the @[120695774615572:274:S3BOARDSHOP GRANDE PRAIRIE] – @[2073412866273679:844:S3 Downhill Derby Race – March 25].
For year 8 of the S3 SUPER JAM – we thought we would switch it up a bit – and we are HYPED!
All ages – All skill levels Welcomed.
This timed race course event will consist of banks, rollers, race gates and a few "style judged" obstacles.
Snowboard ONLY.
Prizes for everyone.
@[391282151282331:844:SLUSH CUP 2018] to follow Race at 2:00PM!