Wolves Outdoor Adventure Summer Camp
2015 Wolves Subway Summer Camps presents "Outdoor Adventure Camps" in collaboration with Nitehawk Recreation Area.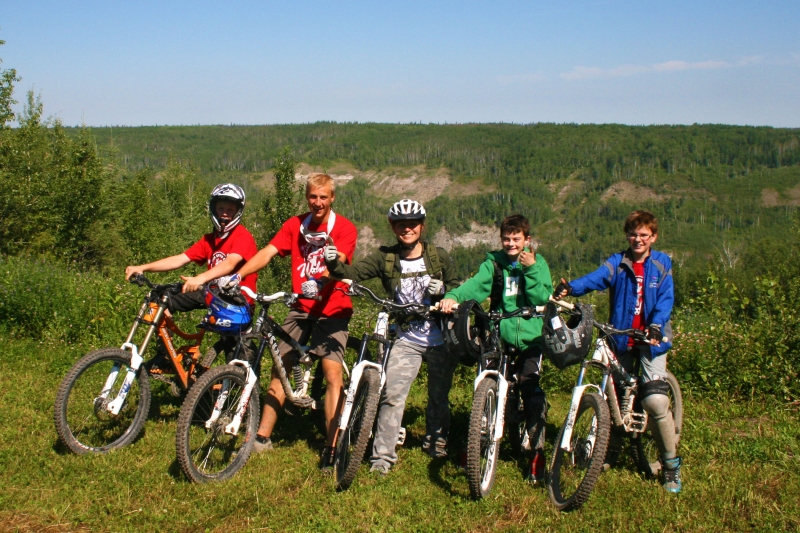 *Registration is available at:  http://bit.ly/1gqnB9z
The Camp is great for those youth interested in the outdoors and Mountain Biking. The camp days take place in the scenic Wapiti River Valley south of Grande Prairie hosted at Nitehawk Recreation Area. The week's activities would include Trail Riding, Pump Track Riding, Down Hill Mountain Bike Training, Bicycle Maintenance Training, Swimming, Jumps, Races, Getting Dirty and Fun. Wednesday night during camp the campers will an opportunity to try out the Nitehawk Gravity bike Park. Fast, fresh air, fun!
2 camps will be offered this summer. Both camps are for children ages 7 – 14.
Camp Details
July 13th – 17th, 2015
August 10th – 14th, 2015
9:00 am – 4:00 pm
(Dropoff is from 8:30 am – 8:45 am, Pickup is from 4:00 pm – 4:30 pm)
Cost $325.00 (includes t-shirt, lunch and Bike Rental)
Please click here to register:
Outdoor Adventure (ages 7 – 14)
We have a new registration system – please look at our registration guide below!
Finding your child's student ID (please register and create an account using your child's name)
IF YOU ARE A RETURNING CAMPER – You will require your child's student ID for registration. If you are unsure what your child's student ID is, please contact Katherine Pernal at 780-539-2000 ext. 1 or email KPernal@gprc.ab.ca. After obtaining your child's student ID number, you will have to request an account for him or her.
If your child has ever attended any other GPRC offerings such as Daycare, Music lessons, etc. and you are unsure what their student ID is, please call 780-539-2704 or email mygprc@gprc.ab.ca to obtain their student ID. After obtaining your child's student ID number, you will have to request an account for him or her.
If your child has never attended a program offered by GPRC, please create a new myGPRC account for your child by clicking here. (You will be redirected to Continuing Education – please follow the steps to create a new account from there!)
Quick Reference Registration Guide
---
Fees & Deadlines
Camp fees vary for each camp
Registration deadline is the Friday prior to the commencement of the camp. Early registration is recommended as camps fill early.
*Note: Camps may be cancelled due to low enrollments!
Application and Cancellation Policy
Please include full payment with your application.
Post dated cheques will not be accepted. A $25.00 fee will be issued for any NSF cheques.
All cancellations must be made in writing and are subject to the following conditions:
Cancellations received up to 7 days prior to the start of camp will receive a 75% refund of the remaining camp fee
Cancellations received less than 7 days from the start of the camp will receive a 50% refund of the remaining camp fee
Cancellation due to illness or injury will receive a full refund less the $35 cancellation fee. Notification from a medical doctor must be included with your letter of cancellation.
NO SHOW – NO REFUND
NOTE: Location of camps will be confirmed with participants
---
For more information, please call the Wolves Summer Camps Information line at
(780) 539-2000 ext 1
e-mail wolvesregistrations@gprc.ab.ca
Wolves Athletics
Department of Physical Education, Athletics & Kinesiology
Grande Prairie Regional College
10726 – 106 Avenue
Grande Prairie, AB
T8V 4C4